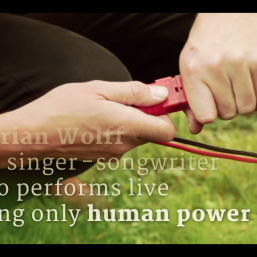 Green Machine video
For those of you who didn't know... Through my music I try to inspire people to make the transition to a sustainable future. I do this with the help of the Green Machine, a human powered powerstation build my green partner in crime Erik Groen.
I've been performing like this for several years but I think the machine itself and this way of performing deserves more attention. Therefor this video was made by Thomas Jeninga and Wouter de Graaf (and thanks to some voluntary cyclist friends) and it's ready to be shared by and with whoever likes this concept and message. So please feel free to do so.
I hope this video will inspire you to find ways of greening up your own personal life or business. And of course I'd be happy to come and perform for you live anywhere, anytime. Just drop me a line.